Comment trouver vos mesures
Some measurements can help you to choose the right size gloves. We recommend to measure a pair of gloves you already have - and not your own hands.
We recommend also that your gloves are not sitting too tight if you do want to keep your hands maximally warm.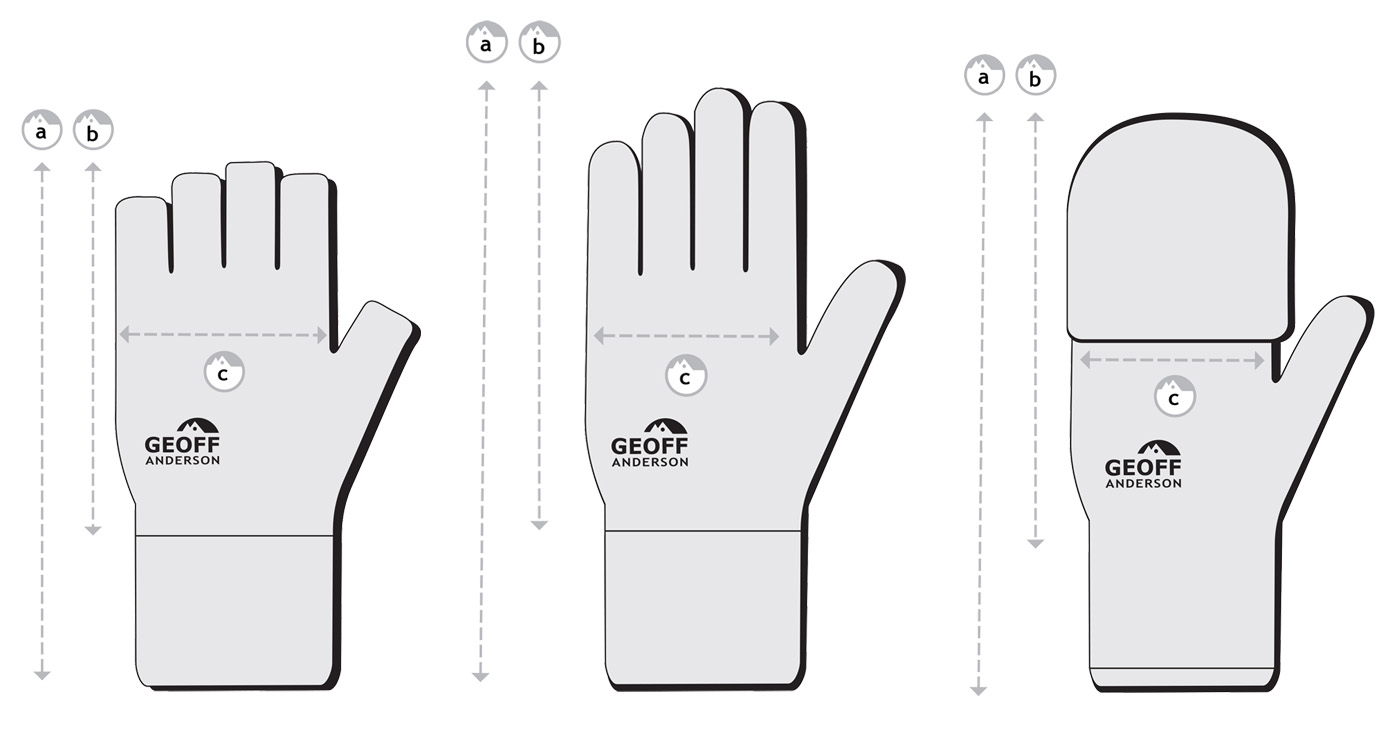 ---
AirBear Weather Proof Fingerless Glove

| | | | |
| --- | --- | --- | --- |
| | S/M (7/8) | L/XL (9/10) | XXL (11/12) |
| A | 21,5 | 24,0 | 25,0 |
| B | 14,0 | 14,5 | 15,5 |
| C | 10,6 | 11,8 | 12,2 |
AirBear Weather Proof Glove

| | | | |
| --- | --- | --- | --- |
| | S/M (7/8) | L/XL (9/10) | XXL (11/12) |
| A | 26,9 | 28,9 | 30,9 |
| B | 19,4 | 21,0 | 22,0 |
| C | 10,8 | 11,8 | 12,5 |
AirBear Weather Proof Half Finger Mitt

| | | | |
| --- | --- | --- | --- |
| | S/M (7/8) | L/XL (9/10) | XXL (11/12) |
| A | 21,0 | 23,0 | 25,0 |
| B | 13,5 | 14,5 | 15,5 |
| C | 10,8 | 11,8 | 12,8 |
AirBear Fleece Fingerless Glove

| | | | |
| --- | --- | --- | --- |
| | S/M (7/8) | L/XL (9/10) | XXL (11/12) |
| A | 23,0 | 25,0 | 26,0 |
| B | 13,5 | 15,0 | 15,0 |
| C | 10,0 | 11,0 | 12,0 |
AirBear Fleece Glove

| | | | |
| --- | --- | --- | --- |
| | S/M (7/8) | L/XL (9/10) | XXL (11/12) |
| A | 29,5 | 31,0 | 32,5 |
| B | 19,0 | 20,5 | 21,0 |
| C | 10,0 | 11,0 | 12,0 |
AirBear Merino Liner Glove

| | | | |
| --- | --- | --- | --- |
| | S/M (7/8) | L/XL (9/10) | XXL (11/12) |
| A | 26,0 | 27,5 | 28,0 |
| B | 18,5 | 19,5 | 20,0 |
| C | 8,5 | 9,0 | 9,0 |